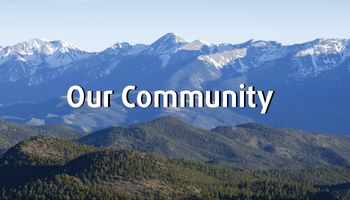 Our Community
Parkview is proud to be located in Pueblo, Colorado. Located at the confluence of the Arkansas River and Fountain Creek. We are one of the largest steel-producing cities in the United States, nicknamed the "Steel City". Not only is Pueblo home to steel, but also to quality health care provided by Parkview.
For more details on our flavorful culture, surrounding areas and amazing places to visit, read Livability Pueblo .
We support our community!
Parkview is committed to giving back to the community we serve. In fiscal year 2018-2019, our total contributions totaled more than $34,928,571. Employees are also encouraged to give back by supporting organizations like United Way of Pueblo County, March of Dimes, American Cancer Society, Special Olympics and many, many more. Employees not only volunteer and serve on boards of local charities, but they also have the opportunity to participate in Junior Achievement Rock-n-Bowl, United Way's Liberty Point 4th of July 5k, March of Dimes Mud Volleyball and several other local fun runs and walks.
Parkview's commitment to education begins earlier than most realize. As the region's only Level II Trauma Center, our Emergency and Trauma Departments are dedicated to providing our community with injury and fall prevention events and educational opportunities to our at risk populations. Our Parkview Mobile Nurse team also provides free blood pressure checks and various health screenings throughout the community to educate on healthier lifestyle choices.
We also empower students through health care education through community partnerships with Pueblo District 70/Parkview Medical Center's S.T.E.P. Program (School to Employment Program) and District 60 Health Academy. We offer job shadowing opportunities for those who are 18 years of age, enrolled in a college or university, and are interested in a career in HealthCare.